Whether you're a brand new small business owner ready to build an online store or you're an experienced small business owner with an established ecommerce presence but are thinking about other options, the "Shopify or Etsy?" question is likely one you've already encountered. An early version of my cat toy shop, Chester & Pearl, opened on Etsy in late 2018 while this stand-alone Shopify store opened over three years later. But this Shopify store doesn't replace Chester & Pearl's presence in the Etsy marketplace. Shopify and Etsy serve different purposes and I'm excited to grow my business by offering both....
---
Meet the cats of the Foster Kittens cat toy collection!
---
Have you been inspired to help homeless kittens in need? I hope so! There are many different ways to help homeless cats including fostering, volunteering, supporting, and adopting. Fostering Cats So, does kitten fostering sound like a possibility for you? Foster parents are needed almost everywhere, but fostering is handled differently by each rescue organization. Some organizations do not have a shelter and all cats are fostered in homes. These are the agencies that bring cats to stores like Petsmart and Petco for adoption on weekends (not to be confused with pet stores that sell cats from breeders – avoid...
---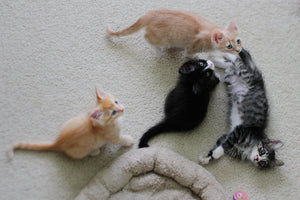 In nearly four years, I helped over 100 foster kittens and mama cats. All were rescues and found their way to the shelter in various ways: abandoned, neighborhood strays, hoarder rescues, ferals… Fostering provides them with a temporary home while while they grow big and strong enough to be adopted into loving homes. All of these sweeties hold a special place in my heart, but I'll share the stories of several litters to show the different ways foster kittens find their way to shelters and fostering programs. Street Kittens My first foster kittens were four siblings who were nearly two...
---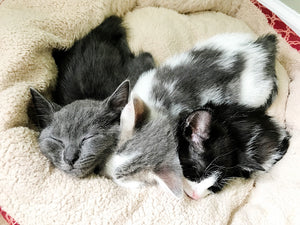 So, aside from providing a safe room for foster kittens to grow, what exactly does a kitten foster parent do all day? What does a day in the life of a foster kitten parent look like? What exactly do you do on a daily basis? Daily tasks might look different for each kitten foster parent. Neonatal orphan kittens require bottle feeding every two hours around the clock. On the opposite end of the spectrum, kittens around 8 to 10 weeks old are pretty self-sufficient and require just a few plates of food prepared throughout the day and playtime. I never...